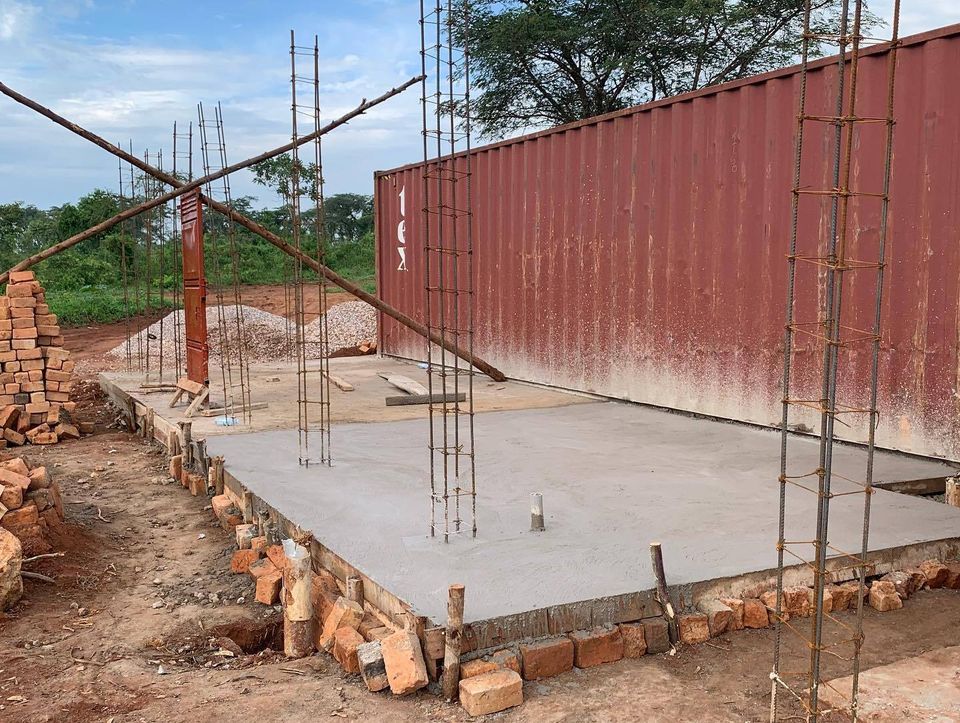 2019 has been a busy and productive year for Hands for an African Child in Uganda. Eight members of our US board made trips to our 102-acre property purchased in Bukomero with a total of twelve people that accompanied them on these trips. Thank you to all those that contributed to make this land purchase possible! I will be traveling there on Nov 6-19th for one more trip this year with Terry Meinzer, the chairman of our construction committee. Terry is a general contractor that is going to be building our first family home next February-March. He has 40 years of construction experience and we are excited to have his assistance in our efforts. Terry's wife, Jennifer and son Matt will also be joining us along with Steve Basques. Matt will be welding the tower for our water tank while he is in Uganda.

We are very close to finishing our first structure, a combination warehouse/living quarters. It is built with four 40-foot shipping containers with rooms built onto the side. The entire structure will have a single roof. It will have two bathrooms with a shower, bedrooms and a kitchen with a dining area. Ultimately, it will have a large lockable gate on the end of the building which leads into the warehouse and storage containers. The two inner storage units will be very secure. Currently we have construction equipment and supplies, a propane gas stove and refrigerator inside the containers, plus several members of the construction crew sleeping in them. The next step is to put on the metal roof which is being funded by Kodiak Roofing in Roseville. Thank you to Bruce & Pam Grundy and Brad Andersen for your leadership in this effort!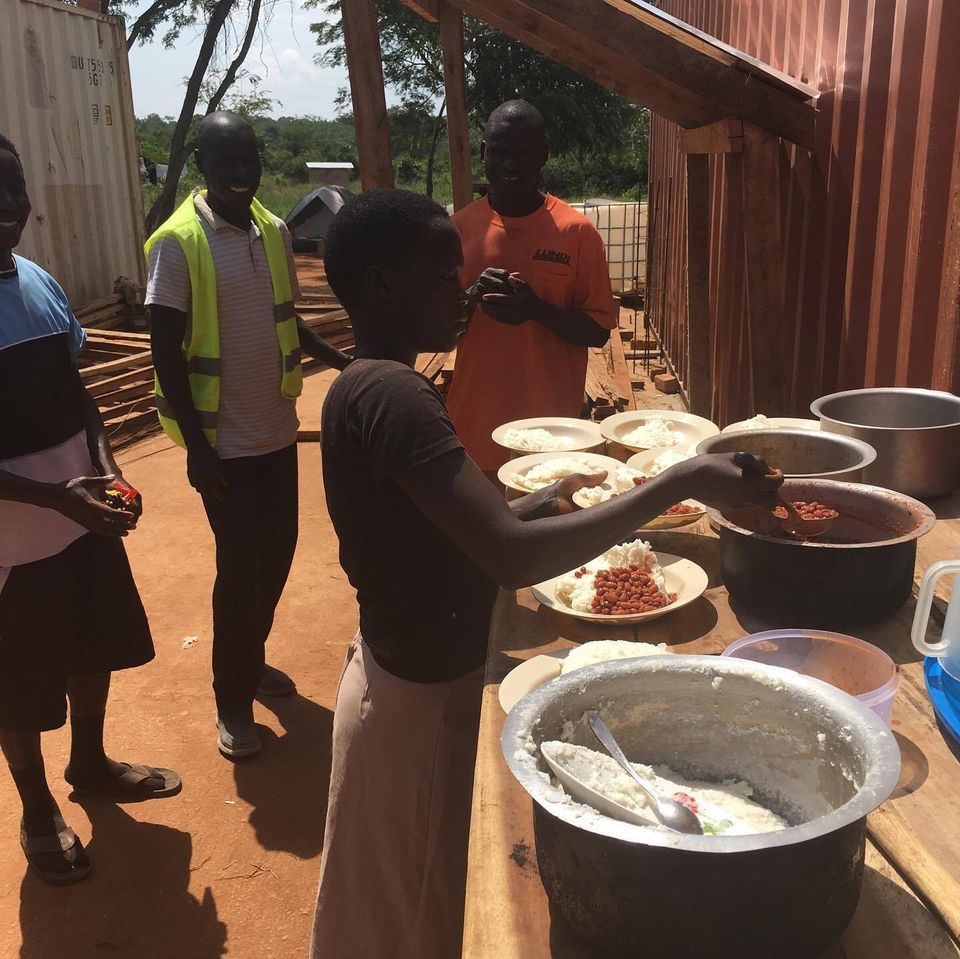 One of the big projects this year has been clearing the land. There was a lot of undergrowth including bushes that were full of thorns that covered a good portion of the acreage. We have been successful in clearing the land with crews using machetes and heavy equipment. In order to plant crops the stumps had to be removed, land leveled and then plowed. Roughly 30% of the land has been cleared with ten acres currently being used to grow crops. Our first corn crop has been harvested and a second crop of corn, beans and cassava (similar to potato) are currently growing. The first crop of corn has been dried, removed from the cob and ground into cornmeal. The construction crew is now eating that for breakfast as a porridge. A very common breakfast in Uganda.
The last member of our Advisory Board to visit was Bev Bair who did an outreach to girls in the Bukomero area this fall. They met at a local secondary school on a Saturday and distributed over 150 Days for Girls feminine hygiene kits along with education on puberty and all that accompanies that. Some of the young women that attended walked over two hours round trip in order to be there. This is one of the areas of focus that our community will have as they reach out to educate the impoverished that live in the surrounding areas. Our outreach will also include clean water initiatives, improving household sanitation and teaching better farming techniques to improve yields. Additionally, once the
health clinic is completed, we will invite doctors, nurses and dentists to come on 2-week "missions"where our community will be their home base.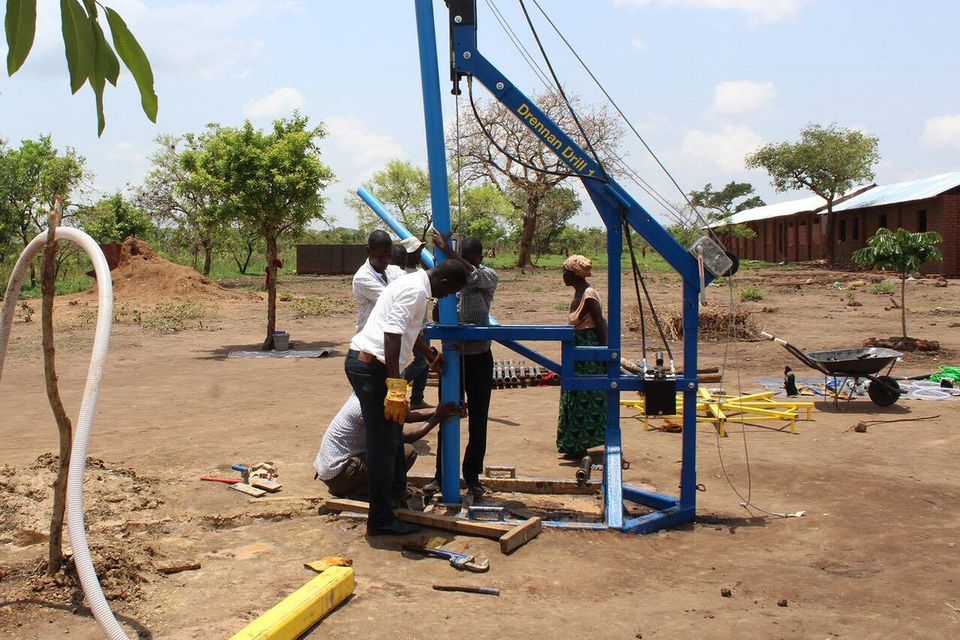 We are currently drilling for water on the property. There is a well on the edge of our land that is located by the main road however, we are looking for water closer to the location of the family homes. This is a picture of the Village Drill which was so generously donated by Greg Drennan. We have used it to provide wells for schools and orphanages over the last two years.

It is only through the support of so many that this project is even possible. Thank you for helping make this project a possibility!
I want to finish with a request, that if you are not currently doing so, would you please include our community in your prayers, the success of the construction, the receipt of continued donations and most importantly, please pray for these 200 orphaned children that will soon be living here. Some may not even be orphaned yet, others may already be living on the streets, everyday looking for food and a safe place to sleep at night. Your prayers and continuing financial support are appreciated!
Brian Matthews
Founder
Hands for an African Child